Can I track my son GPS location use his nubia X? How To Spy on ZTE nubia X Text Messages? How can I listen in to my boy friend's calls while he is not in home? How to get evidence of husband cheating on me? Can I read my son's WhatsApp and Skype messages without him knowing? How can I spy on ZTE nubia X with my Xperia XZ3? Can I spy on my employees's ZTE nubia X at work? Which spy software should I choose for tracking on my son's ZTE smartphone… If you have these needs, you come to the right place. Here, you'll get best spy software for monitoring on ZTE nubia X or ZTE nubia Z18. The premise is that he or she is the Android or iPhone user.
On sale Nov. 6, the Nubia X is a dramatically different alternative to other notch killers, like the motorized sliding display of the Oppo Find X, a magnetic power slider design like the Xiaomi Mi Mix 3, or the pop-up selfie camera of the Vivo Nex S. There are two cameras on the back: An f/1.7 aperture 24-megapixel and a f/1.8 16 megapixel sensor, which supports AI-based portrait mode with depth effects, scene recognition, and 240fps slow video capture. The rest of this flagship is great, too: Snapdragon 845, 8GB of RAM and up to 256GB of storage. The battery is a solid 3,800-mAh. You can get high quality pictures and videos easily. If your family or employees are ZTE nubia X or other Android smartphone user and plan to know their every move. You can try our ZTE nubia X Spy App here.
Why choose ZTE nubia X Spy Software?
Catch Cheating Spouse
You know something is wrong! Something is fishy! Your wife is hiding something from you and you want to find out what it is. She is busy talking on phone for hours and when you asked her, "Honey, who was it?", she simply ignores your question saying, "Is there something overcooked in the kitchen?". And, you cannot ask the question again! yes! They are so smart, flirty wife are! So, you doubt that your wife is cheating on you and you want someone to tell you how to get into her ZTE nubia X to uncover the reality. At this point top ZTE spyware is something that can prove to be a good aid. The sleuthing tool can also be used to record device surroundings and monitors specific activities once the user defines the keywords such as names, numbers, and locations. It's because of these features, it's one of the best Android monitoring software.
Effective management company
As an employer, do you ever think about monitoring your employees? Do you get home and go through an employee's personal social networking posts, checking that they've not posted something controversial? Do you ever consider checking where they are via the GPS tracker in their company smartphone?
Employee monitoring allows a business to track employee activities and monitor worker engagement with workplace related tasks. A business using employee monitoring on a computer can measure productivity, track attendance, ensure security and collect proof of hours worked. It even gives you the control to track GPS location and social media activities of the user if they have an account on Tinder or Instagram.
Rights protect the teenager
Dad or mum play a crucial role in the upbringing of a child! Positive involvement of parents into a child's life is the key to his/her success. However, in today's hectic lives, where most of the parents are busy in their work and children are engaged into their day to day classes , there is hardly anytime for them to interact and share their whereabouts.
Since this communication gap is creating lots of misunderstandings between parents and their children; it is time to act, before the situation goes out of control. As children especially during teenage are more likely to space out and try dangerous things; it becomes the responsibility of parents to stop and save them. To protect teenage daughters or sons, you need to keep your eyes on your child. ZTE nubia X Spyware can give you a hand. This top Andorid monitoring app aims to give you remote control of the target device by fetching information from it such as call logs, texts, emails, chats taking place on WhatsApp, Facebook Messenger, Viber, Skype, and other popular platforms.
Get best spy software for ZTE nubia X

ZTE nubia X Monitoring App Interface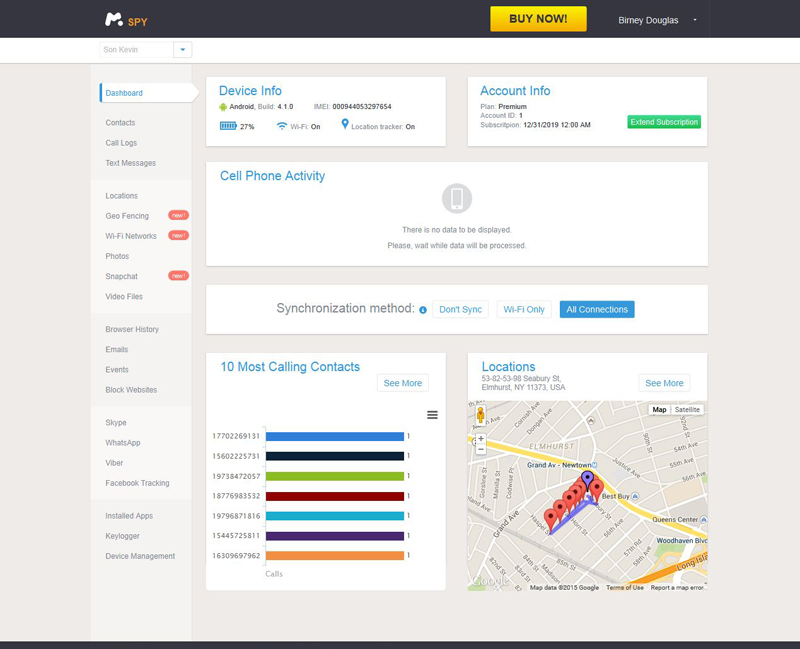 How the ZTE nubia X Tracking Software Work?
Step 1: Purchas ZTE nubia X Spy Software
In order to purchase this software you must first acknowledge and agree that you are the owner or authorized administrator of the device you wish to install the software onto.
Step 2: Install ZTE nubia X Spy App
You can download and install the application onto the ZTE nubia X to be monitored using the included instructions. Also, the download and installation instructions can be found in the Email.
Step 3: Start monitoring
Log in to ZTE nubia X Spyware's Control Panel to start tracking messaging apps, GPS location, multimedia content and any other activities taking place on the monitored device.
ZTE nubia X Spyware Features List
Get GPS locations as often as you wish
View complete SMS text messages
Control Apps and Programs
Monitor Facebook Messenger
Log call details and websites visited
Monitor WhatsApp, Skype, FaceBook Messenger
View photos and video taken by the ZTE nubia X
Control Installed Apps and Programs
View memos, contacts and email
Monitor Internet Activity
Block Apps from running on the phone
The information collected through this ZTE nubia X spy software is easy to access from any internet ready device. Everything is uploaded to your personal web account for you to review in your own time. Getting this best spy software for ZTE nubia X and start spying now.