How to spy on a Motorola Moto X phone? A Motorola X tracker and monitoring Software is necessary. With this best reviewed Moto X spyware, you can spy email, call, text message, skype, facebook, etc., on a Moto X without anyone knowing.
Moto X (2nd Gen.) continues to be one of the most stylish Android phones in 2015 and looks even better with Android Lollipop. Moto X runs the latest version of Android OS, free from unnecessary software skins. With quick access to the latest updates, you always enjoy the best Android experience. The 1080p, 5.2″ HD display means videos, photos and everything else look their best.
Although the world is filled with threats and bad influences for our children, we can not always be there to protect them-until now. With Moto X Spy App, you can track their movements in real time, secretly activate the phone to listen in on the surroundings, and monitor all communications including texts, pictures, browsing history, and track whatsapp, viber chat. Moto X spyware is one of the wisest investments any parent can make for the protection and safety of their children.
I think my husband is cheating. Can I track his SMS messages if I don't take his Moto X? If he or she is an Motorola smartphone user, you could try the "spy on your husband" app or the "secret SMS" app. Just keep in mind that both apps won't work on all wireless services. Make sure the spy app you want to use for tracking your husband, wife, boyfriend or girl friend is compatible with the Moto X or other Motorola smartphone before downloading and installing it.
There are various software applications that claim to be able to spy on text messages and track your boyfriend's Moto X phone activity. However, many phones and tablets have built in protections to safeguard the user's privacy. This means that in some cases you won't be able to install a mobile spy app.
Best monitoring software for tracking on a Moto X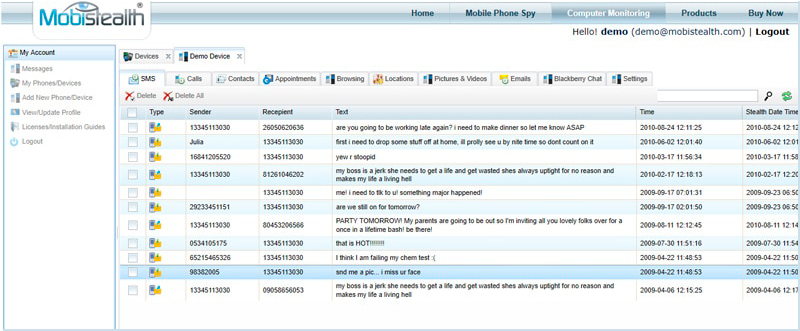 Moto X mornitoring app is setup on the target phone, it will record all the phone activities and then silently upload the data to your private Moto X Spy Software account using the internet connection. When you want to view logged data, simply login to your Online Control Panel from any internet connected computer. You can login anytime from any location to view the results without needing access to the phone. The recorded data include a date/time stamp and are searchable by phone number. Moto X tracking app starts at every boot of your phone, in complete stealth mode.
Moto X Spy Software Features
– Read Motorola Moto X cell phone Incoming / Outgoing Emails
– Track Internet Browsing History
– Track Moto X Sent / Received text messages Remotely
– Track Viber messages, Line, WhatsApp, Facebook, Skype, Snapchat messages
– Track Motorola Moto X cell Phone Location
– Read Motorola Moto X cell Phone Contacts
– View All Photos Videos Captured
– View Call History and call recorder
– 100% Undetectable
– The customer service support team is available to you 24/7 by Toll-free number
Supported Phones: Motorola Moto X4, Moto X Force, Moto E, Moto G, Moto X, Moto X Pure Edition, Moto X Style, Moto X Play, Droid Turbo, Droid Maxx, Droid Mini, Droid Razr M, Moto e4, Moto G5, Nexus 6, Galaxy S7, etc.
Hot Searchs: how to spy on my husband's moto x, droid turbo spy app, spy on moto X4, moto e tracking software, monitoring app for moto g, track on droid razr m, moto x pure edition spy sofftware, spy on moto x pure edition, moto x style spy app, spyware for moto e4, moto x force spy software, spy app for moto x force
How Motorola Moto X Spy App works
1. Buy Moto X Spy App
You can purchase our Moto X spy app directly from this website. Choose the subscription and fill in the order form. After your payment has been confirmed, installation guidelines will be sent to you.
2. Install and Set Up Moto X Spyware
After the purchase is completed you need to download our Android tracking application and install it onto the target Android device. Moto X Spy Software installation is so simple and intuitive that you can complete it in several minutes.
3. Start Tracking Moto X Smartphone
Simply log in to your Control Panel and our Moto X tracker will start tracking text messages, call history, GPS location details, and any other activity taking place on the target device. Our Moto X tracking app will capture the information on every activity of your target phone user.
Moto X Spy Software Review
Motorola Moto X spy app is amazing! It's able to spy anything you can imagine! Very impressed with the functions, as well. Interface is very easy to understand. – Sammy